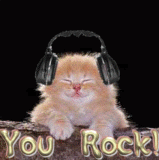 That's right. My big sister ROCKS!
As you may remember, Dr. H has given the okay for me to try some milk products to see how Mr. Emmett John reacts. Yesterday while in the grocery store I decided to buy a sugar cookie with some serious icing thinking that surely it had milk in it somewhere. Wrong. Well, I ate the cookie anyway but I must admit I was a wee bit irritated. I was irritated because a) I love these cookies and could have been eating them for the past 6 months and b) I was all worked up to eat milk again and it was a no go.
So last night I was talking to my sister before she came over to hang out. (There's a shock, I know. lol) Anyway, we were chatting and I told her about my cookie snafu. Then when she calls me on her way over and tells me that she is stopping by Wendy's and picking up 3 Frosty Floats. So I was all excited. Then she shows up with double stuffed Oreos, peanut M&Ms, 2 containers of cheese cubes, Ben & Jerry's Phish food ice cream and Ben & Jerry's Peanut Butter Chocolate ice cream. All of that yummy junk food just so that I could have milk products for the first time in nearly 6 months. 🙂 In the end I went with the Frosty Float and the Oreos but that's because there isn't any milk in the Oreos.
But how awesome is my sister? To bring all of those goodies that she knows I love. I'm a lucky girl, this I know.
I love you Trish! :p