My Mommy is one of 6, kind of like my hubby. She had 4 sisters and 1 brother. I love each of my aunts. Each of them has a special place in my heart for a different reason. (I'm going to have to go find pictures of my Aunties to post with this blog.)
My Auntie Paula is the oldest of the six. She is the sweetest, most down-to-Earth woman I've ever known. She works as a Court Services Officer. At least that's what I call her role based on my television legal lingo. 🙂 She works for a judge here in town as his secretary and a little bit of everything else. Her special place in my heart is filled with memories of her scratching my back, arms and face until I would fall asleep. (When I'm really stressed I'll go to her and she'll still do this for me.) She took Gavin and I and allowed us to "hide" when we moved home after I left Nick. When I was married to and living with Nick, she was diagnosed with colon cancer. She handled it with such style and grace. I hope I am able to handle my life in such a way. She's caring, compassionate and so generous. She is an amazing woman and I feel honored every day to know her and have her as my Auntie.
Next in line is my Aunt Carol. Ever since I was a little girl, Aunt Carol has felt more like a friend than an Aunt. She's funny and gives amazing hugs! When I was a kid she lived "far away" (I was convinced that she lived like 3 hours away. In reality, she lived maybe an hour away. lol) so I didn't get to spend the night at her house as much as I would have liked. They lived in the country at the time and had gobs of land, which I thought was very cool. I remember once she got my cousin Sam and I gifts from Odd Lots. I was so impressed with Odd Lots I couldn't wait to shop there when I grew up. (lol) Sadly we still don't live "close" to one another. She's still about 45 minutes away so I don't get to see her as often as I would like. However, she does work in the hospital where I go to delivery my kids. Which usually means she gets to see them first. 😉 lol She even got to see Elliott in the NICU. (I think. Those 10 days are kind of hazy.) She is super sweet and funny and affectionate and I just love her to bits!
My Mommy is the next in line. 🙂 Since I'm writing about everyone else it only feels right to include Mommy. Let's see…my Mommy a wonderful mother. Although sometimes I don't think she believes this. She is such a peaceful and beautiful soul. All that I am that is hippy, I got from her, a fact she's proud of. My love for reading and books, I got from her influence. She always nutured my love of books, although at times she seemed confused by the fact that her tween/teenager would rather have books than anything else. (lol) She is an amazing grandmother to my children. She has a very special bond with Gavin. In part because she helped me to raise him until Gavin and I moved into an apartment with Rob. They also have a special bond because she was my birthing coach. She helped me to bring him into the world. And that is a gift I am forever grateful for. (I'm tearing up just thinking about it.) She is such a generous soul. She loves to bake (and is by far the best baker I've personally ever known) and she does so for birthdays for friends and family all the time. In all honesty, I don't know that I would be the woman I am today without my Mommy.
Half way there! 🙂
Fourth in line is my Auntie Sharon. The lady who started this whole blog/post in the first place. (lol) My Aunt Sharon and I tend to be a lot alike. We are both free spirits and very outspoken about our beliefs, opinions etc. We've had pretty similar life experiences as well. There has been a time (more than one) when we clashed horns and had a battle of the wills. (We're both incredibly stubborn.) Sometimes she just drives me insane but I still love her. I have a special place in my heart for her because we are so much alike. She has certainly be dealt an interesting hand in life but she just rolls with the punches. Some how she always seems to come out on top, at least to me. (lol) She also always seems to find a way to be generous and make others feel special.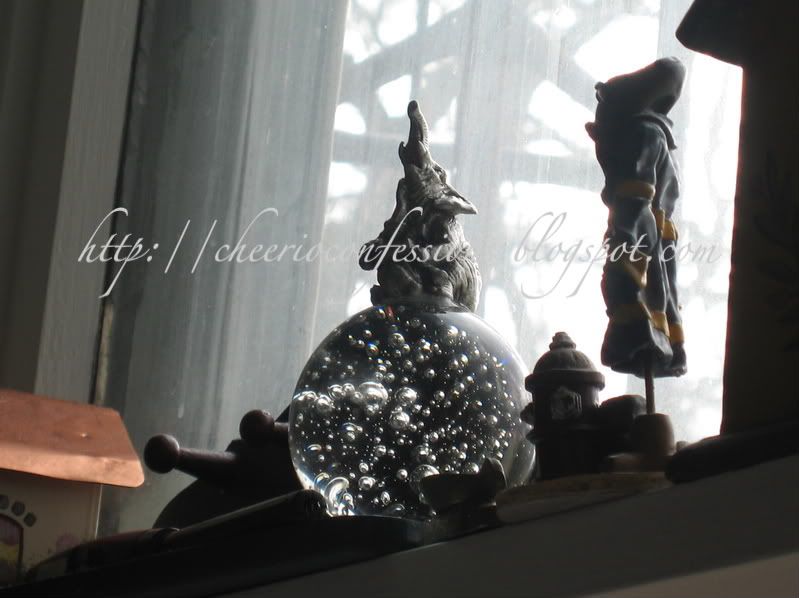 This elephant paperweight is a gift from her. When I was little I loved elephants, I don't know why. She remembered that wanted me to have this paperweight. It's of what I like to think are a Mommy and baby elephant. Elliott loves it because of the bubbles in the glass portion, which is why it's up high in the window. This way I can enjoy it and he can't break it. (lol)
Fifth in the list of siblings is my Uncle Mark. This blog is all about the Aunts though so I guess I'll take about my Aunt Terri here. She is my Uncle Mark's wife. Honestly, I don't know her very well. She very sweet and kind. I know that growing up she was really close to my cousin Maddy. But I just never really got the chance to get to know her.
Last (but certainly not least) is my Aunt Susie. Susie is the youngest of the six. She is also a mother of seven. (Brave woman!) I honestly don't know how she does it all. Six of her seven children are still in high school through grade school. My Aunt Susie just amazes me (yes, they all amaze me in different ways) with everything she manages. All of the different balls she keeps up in the air. I have nothing but the utmost love and respect for her, as a woman and as a mother. She's just phenominal!
And those are my wonderful, amazing aunts. This started out as a blog about the beautiful, thoughtful gift my Auntie Sharon gave me and somehow it's morphed into this. 🙂